CMNM – Hot Swimmer Martin
Welcome back to watch a new exciting cmnm scene featuring hot Martin, a professional swimmer who has a nice good looking body and a really cute face. If you are not new here you already know what's going to happen in this scene and if you are new around here then you should now that we are featuring naked guys getting their body inspected and their cock jerked by clothed guys who love playing and teasing with a horny naked guy. Martin is getting ready for the practice when his coach comes in the locker room with a guy who's going to be Martin's main sponsor. Martin was just taking off his shorts  before the guys came in and they caught him completely naked.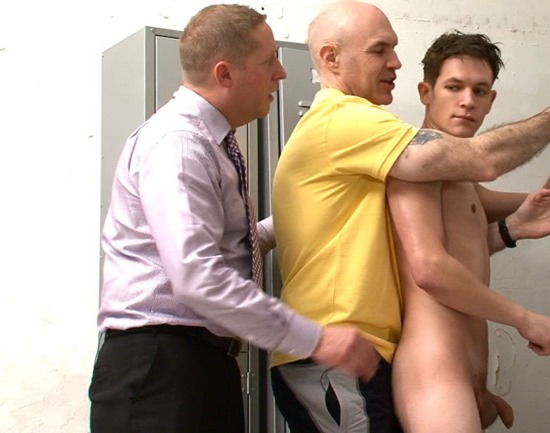 Before he even got the chance to put on his swimming suit he noticed that the coach and the other guy are keep staring at his cock. He felt a bit embraced and tried to cover his cock with his hands but hen the new sponsor told him that he has quite a nice dick and it's a shame to hide it. Martin is gay and it looks like the sponsor is also gay. We are not sure about he coaches' sexual orientation but he surely loves to watch Martin's naked body and he did a lot more then that, because when Martin revealed his cock again, he couldn't help himself and started touching Martin's naked body. Martin was shocked at first, but then he turned around letting the guys touching and spanking his sexy ass. They even played with his cock and his balls and then the sponsor gave Martin a really nice handjob making him shoot his load all over the place. Well this was all for today, but better check out he other scenes and visit us again soon!